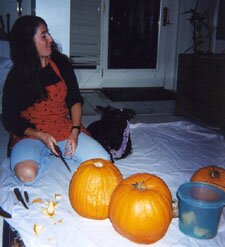 Gallery Artist & Winter Director
Dawn Stafford shows "Shadow"
the tricks of pumpkin carving.
Gallery Summer Director Rocky
Kruithoff and Dawn ply their
Halloween trade.


Making fast work of it ...


Rocky's fine workmanship ...


Proud Artist's and their first
Annual Pumpkin Exhibition at "Tree Tops."


"JoJo" would sooner be chasing goblins ...