July 2000 Exhibition At "The Timmel Collection"
Mary Porter
"Adventure For The Eye"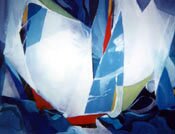 Drama, imagination, and a touch of whimsy are combined in the colorful paintings by Holland artist Mary Porter in a show entitled "Adventure For The Eye," opening July 1 at an artist reception from 5 - 8 PM in The Gallery. Mary, whose paintings will be featured for the entire month has exhibited during a long career in numerous juried art shows and competitions including those of the Michigan Water Color Society, Grand Rapids Festival are competitions, Holland Area Arts Council, Muskegon Museum of Art and Krasl Art Center of St. Joseph, MI. Her work is represented in many corporate and private collections throughout the Midwest.
A number of new paintings employ a combination of transparent and opaque (gouache) water colors. Mary thinks of her work as a fresh way of looking at everyday subject matter, such as sailboats, birds, landscapes and animals. She is intrigued by contrasts, patterns, fantasy and by sudden 'moments of recognition' when a painting in progress emerges as a statement of emotion or a comment. She hopes to give enjoyment to the viewer by way of visual awareness beyond descriptive imitation - in short, adventures for the eye.
Above Painting is Mary's watercolor "Sail Abstract"
To See More of Mary's Work, click on Mary Porter